The Second Baghdad
My teacher, Munir Bashir, wrote a composition entitled Baghdad when it was a beautiful thriving city. During the Gulf War, bombs and missiles leveled numerous buildings and nearly every bridge that unites Baghdad across its river. My city changed so much that I barely recognized her. This is the Baghdad of my composition.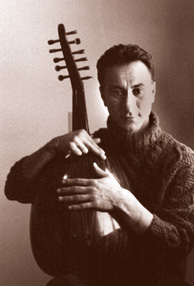 bio:
Rahim AlHaj began teaching himself the oud at age nine. Early on, it was evident he had a remarkable talent for playing the oud. His formal instruction came at age 18, when he entered the prestigious Baghdad Conservartory. At the conservatory, he studied under the famous Munier bashir and Salim Abdul Kareem. He graduated from the conservatory in 1990. At the conservatory, he won several awards for composition. He was well-known in Iraq as a musician and composer. The situation in his country and his opposition to the Iraqi regime made it necessary for him to leave in 1991. He lived mainly in Jordan and Syria, where he also had notoriety, before receiving political asylum in U.S. in March 2000. He now resides in albuquerque, New Mexico.
He taught oud at the Institute for Arabic Music in Jordan. He performed in Jordan, Lebanon, Syria, Bahrain, and Egypt. He has also performed in Paris, France. Since arriving in the U. S. two years ago, he has played to audiences in New Mexico, Florida, and Texas. He recently completed his first CD in the U.S. entitled The Second Baghdad.
His music is a delicate combination of traditional and contemporary oud music, with an emphasis on establishing new concepts without altering the foundation or tradition of the Iraqi School of Oud. Rahim says that "my music invites the listener to discover the true spirit of the musician." All of his compositions are original and instrumental and many of them reflect Rahim's passion for his city Baghdad, and his country. Rahim is one of five or six great classically trained oud musicians in the world.